J'ai eu l'opportunité de pouvoir être conférencier à l'IAMCP (International Association of Microsoft Channel Partners) le 08 Juin 2023
Voici un résumé de la présentation et les slides sont en fin d'article. N'hésitez pas à donner votre avis dans les commentaires.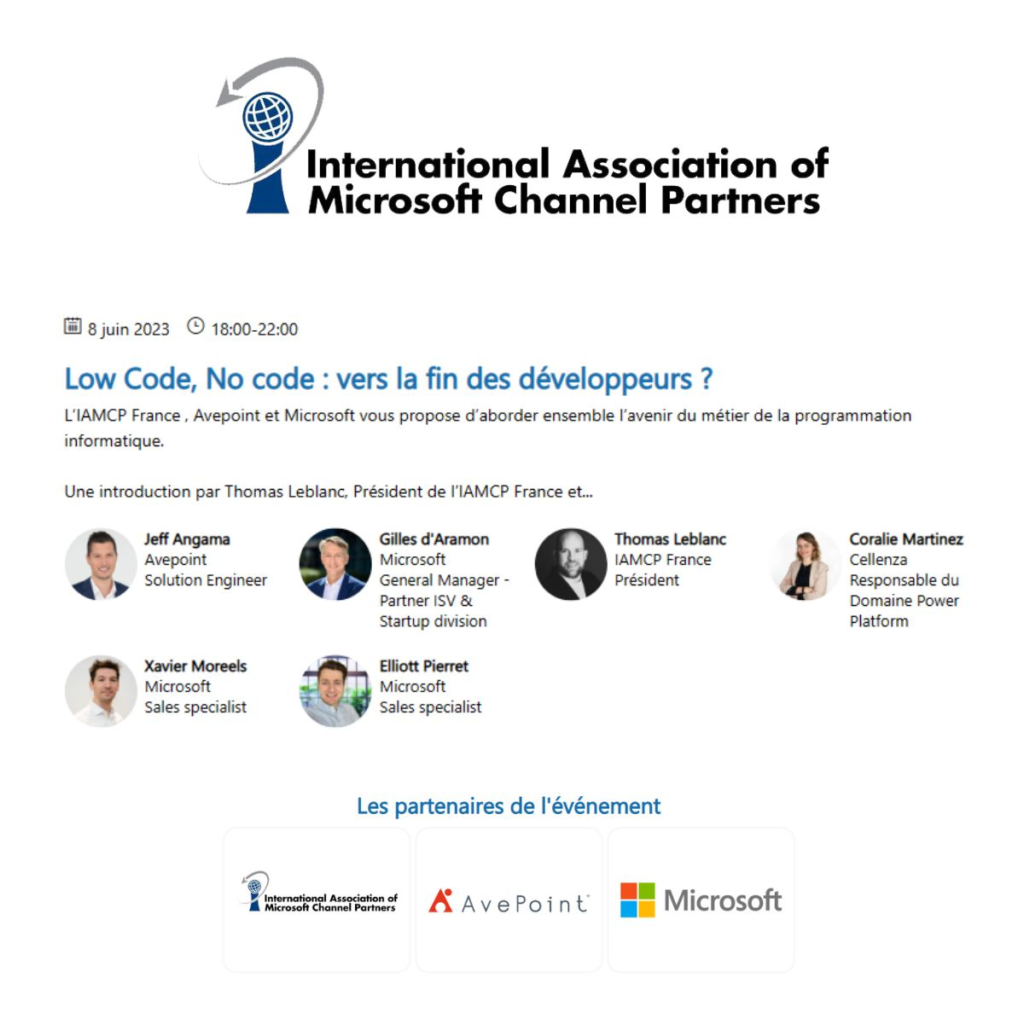 Quelques statistiques
La croissance des applications low-code dans les entreprises est exponentielle. Plusieurs cabinets prévoient une croissance des applications low code allant jusqu'à 500 millions d'ici fin 2023.
Il y aura 4 fois plus de makers que de développeurs.
Les plateformes low-code accélèrent le développement des projets informatiques entre 50% et 90% !
Mettre en place une démarche d'accompagnement des créateurs de ces automatisations / applications (qu'on appelle plus communément les makers / citizen developer) permet de digitaliser plus rapidement les processus des entreprises.
Comment les entreprises accompagnent leurs employés (makers) ?
Les entreprises mettent en place des COE (Centre d'Excellence, Center of Excellence, Center of Enablement) pour accompagner et cadrer leur stratégie du déploiement du Low Code et No Code en entreprise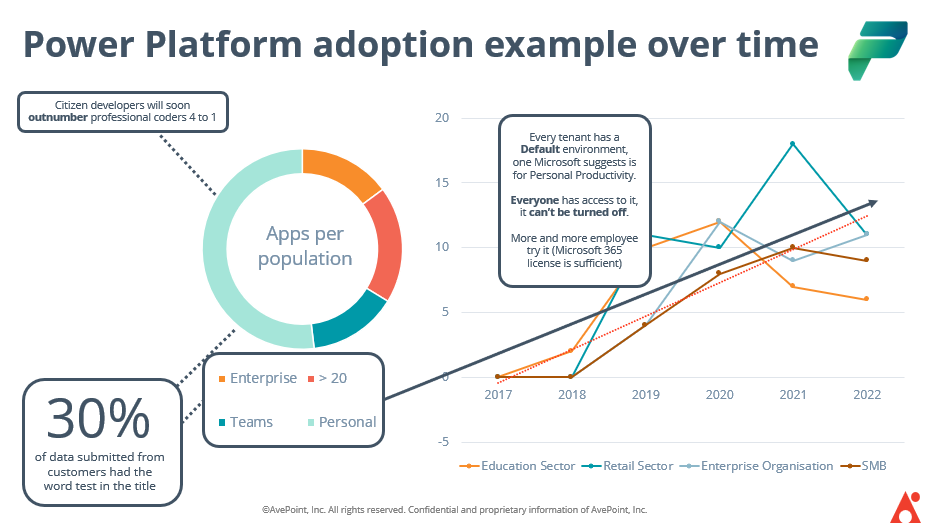 Les enjeux autours de la protection pour les makers
Ils souhaitent pouvoir annuler une erreur de manipulation ou de suppression d'un Power Apps ou d'un Power Automate, d'un Power BI.
Une erreur de calcul dans un rapport ? Comment revenir sur la précédente version du Power BI ou d'un Power Automate ?
Les makers souhaitent "que ça fonctionne", sauvegarder leur travail avant d'éditer peut être facilement oublié, ils souhaitent travailler dans un contexte protégé et sécurisé.
Enfin les environnements Teams et d'essais sont supprimés après une période d'inactivité. L'administrateur sera prévenu mais le risque existe.
Comment restaurer une Power Apps ou Power Automate via Microsoft 365 ?
Dans certains cas (la suppression par erreur), il faudra demander à un administrateur de restaurer via PowerShell ou via l'administration Power BI, dans une limite d'environment 20-28 jours.
A ce jour, il n'existe pas d'historique des versions d'un Power Automate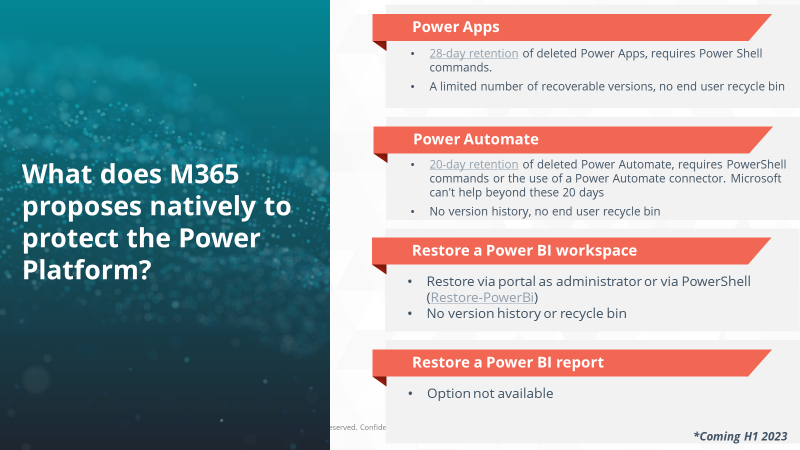 Que propose AvePoint pour la protection ?
Cloud Backup est la solution SAAS d'AvePoint protégeant Microsoft 365, Dynamics 365 et désormais la Power Platform.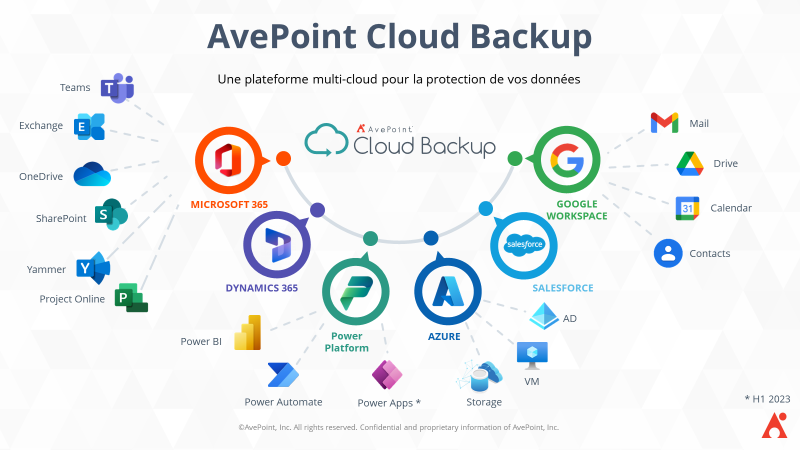 Les enjeux autours de la gouvernance
Garder une plateforme nettoyée des applications tests ou inutiles (chaque application peut présenter un risque au niveau de la sécurité)
Les makers souhaitent une vue sur ce qui les intéressent (et non pas une vue sur des applications inutiles)
Les services informatiques souhaitent éviter les fuites d'informations (des emails qui se retrouvent sur Twitter ?)
Ils souhaitent ne pas dupliquer les initiatives s'il existe des outils groupes
Déployer la Power Platform dans un cadre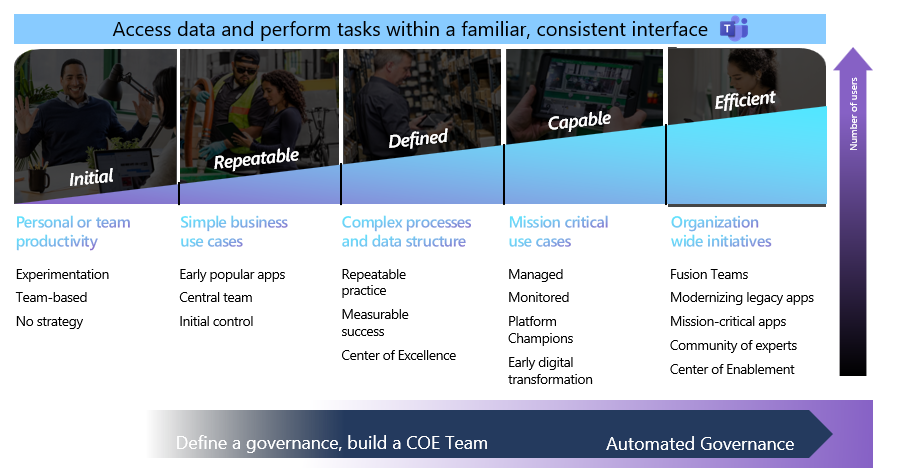 Quels critères de décisions pour appliquer une gouvernance de la Power Platform
Inspiré de Gartner je vous propose une matrice permettant d'appliquer une gouvernance selon la criticité d'une application.
Cette criticité est représentée par l'audience de l'application VS la complexité (technique ou selon la confidentialité des données).
Plus une application se retrouve en haut à droite dans ce cadrant, plus il faudra y accorder une attention particulière.
Par exemple :
Les applications / automatisations concernant la productivité individuelle de l'employé (ex: je sauvegarde chaque PJ d'email dans mon OneDrive) ne vont presque pas demander de gouvernance, ne serait-ce que de demander au maker s'il a toujours besoin de cette création.
Dans ce cas, considérez la suppression ou sa désactivation (on pense aux applications de tests ou devenues inutiles dans le temps) ?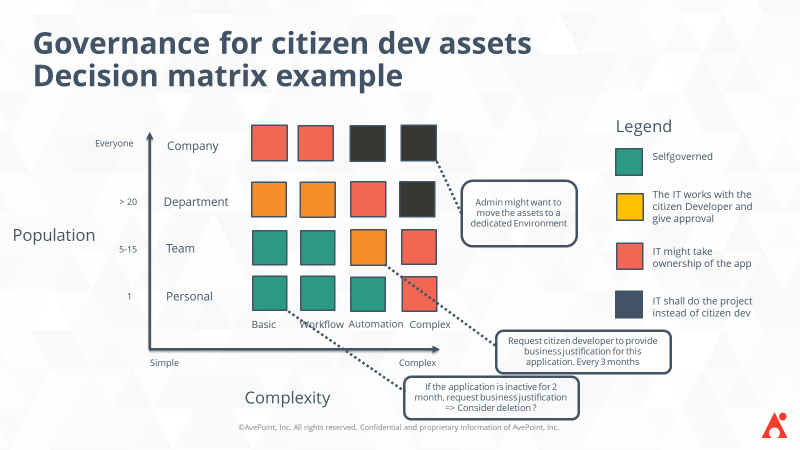 Une application dans "l'orange" demandera une attention plus particulière de la part de l'équipe Centre d'Excellence Low Code. Cette équipe pourra demander (manuellement ou automatiquement) la raison de cette création, la population cible, les processus métiers couverts par cette application.
Ces types d'applications devraient être dans un environnement Power Platform dédié avec des DLP (Data Loss Prevention), permettant de cadrer les possibilités futures de l'application Power Platform. Idéalement, ne pas bloquer ces connecteurs mais simplement être prévenu afin de ne pas freiner les brillantes idées des makers mais tout en permettant un suivi par les équipe Centre d'Excellence Low Code des entreprises.
Enfin, une application tombant dans la catégorie "noir" devrait être par la suite reprise par la DSI pour garantir les bonnes pratiques de développement, le support adéquat (selon les SLA) associé de cette application.
Que propose AvePoint pour la gestion de la Power Platform ?
AvePoint propose la plateforme "Entrust for Power Platform" pour faciliter la gouvernance, administration, délégation des tâches d'administration de Power Platform.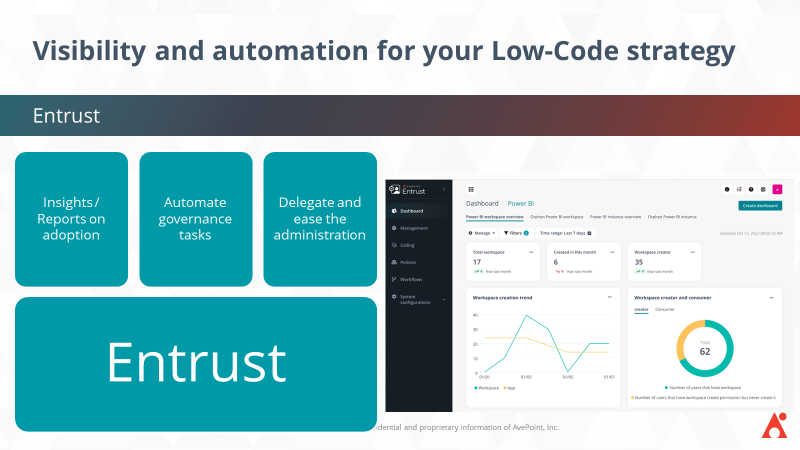 Fonctionnalités
Visibilité sur l'adoption (voir la liste des environnements et leurs DLP associées, des Power Apps, des Power Automate, des Power Bi, des connecteurs et leurs utilisations).
Réduire les risques de qualité : voir les applications orphelines (le propriétaire a quitté l'entreprise)
Demander le pourquoi d'une création à un maker, afin d'appliquer la bonne gouvernance (voir diagramme de décision ci-dessus)
Administrer facilement au quotidien (vérifier les permissions, configurer les droits d'accès rapidement pour plusieurs utilisateurs)
Automatiser des tâches manuelles (être prévenu de l'utilisation du connecteur Twitter ? etc)
Surveiller la bonne application des règles (des DLP, des groupes de sécurité)
Etre prévenu de l'utilisation d'un connecteur que vous avez défini dangereux, sans pour autant le bloquer coté administration des DLP Microsoft 365
Déplacer les Power Apps / Automate d'environnement à environnements, afin de par exemple nettoyer l'environnement par Défaut
Et le COE Starter Kit dans tout ça ?
Cela fera l'objet d'un prochain article
Dans les grandes lignes voici quelques différences :
Entrust permet nativement la gestion de multi tenant Microsoft 365
Entrust est rapide d'installation et se met à jour de manière autonome, requiert moins de maintenance
Entrust permet l'inventaire des Power BI
COE Starter kit permet l'inventaire des Virtual Agent
COE Starter kit est une démarche Open Source
La gouvernance et la protection permettent la satisfaction des utilisateurs et des DSI
Si on fait l'analogie avec un parking d'un centre commercial, les utilisateurs de la Power Platform seraient les conducteurs de voitures allant au centre commercial.
Sans règles, processus, opérations, assurances, les conducteurs et propriétaires des centres commerciaux seraient insatisfaits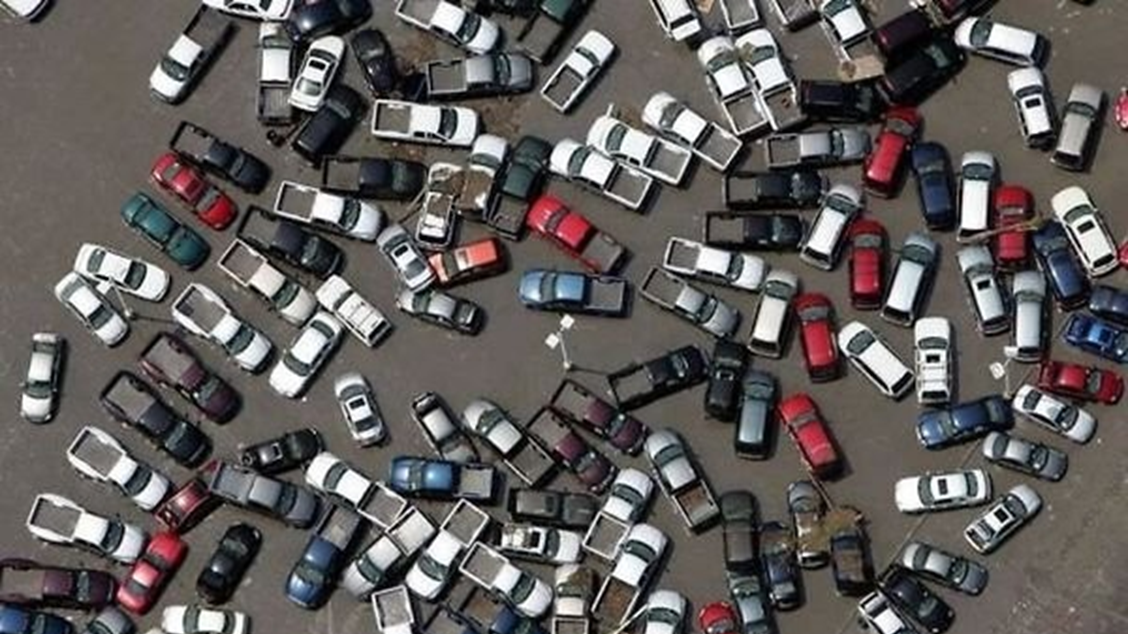 Travailler au quotidien dans un environnement où l'utilisateur sait quelle application ouvrir selon son besoin, facilite la productivité.
Garantir le bon fonctionnement des applications grâce à une DSI qui arrive à suivre les initiatives terrains, contribuent au bon fonctionnement du système d'information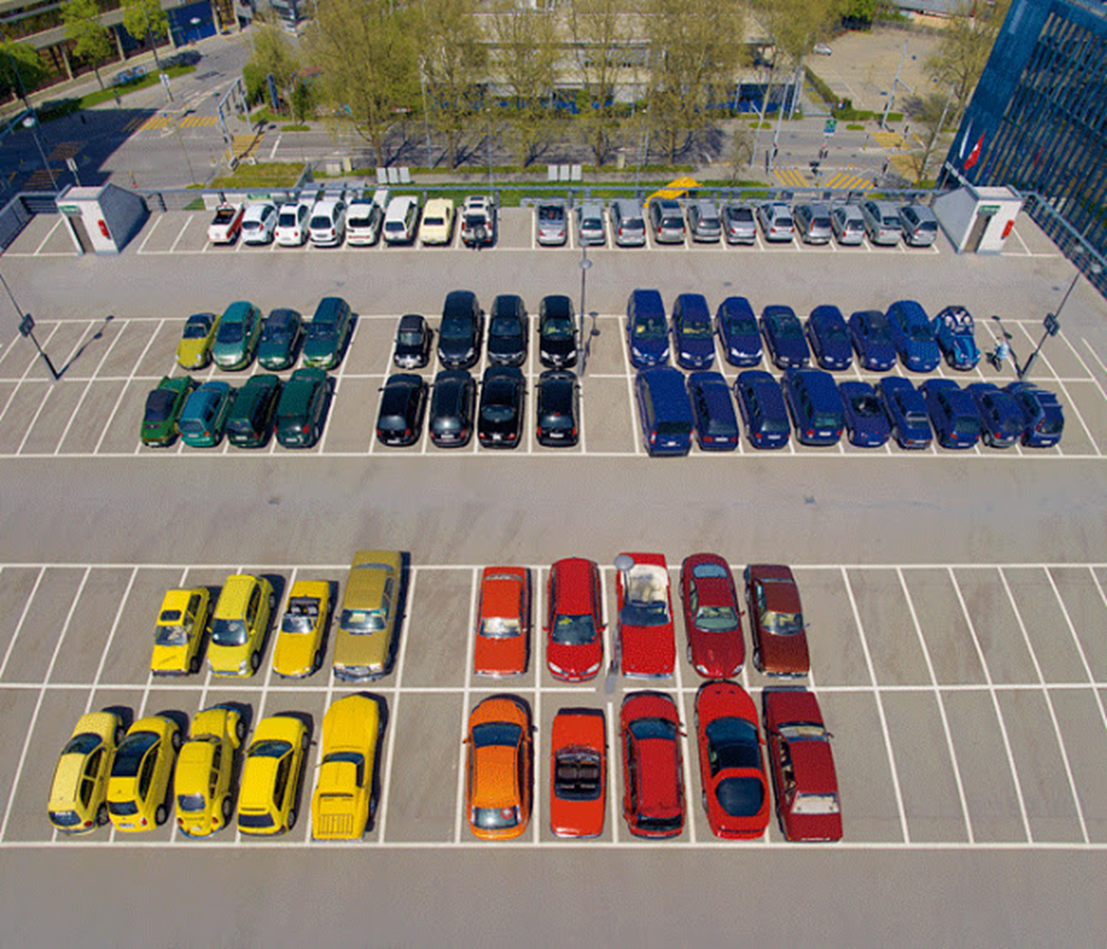 Présentation