Article en anglais, puis plus bas en français
If you are an individual you can get teams for free following this tutorial. For companies, that will be covered in my next post.
This tool is good for you if you also want to share and collaborate documents with your team, use visio conference, chat, share notes on a whiteboard.
Unless Zoom or Slack, Microsoft Teams is fully integrated with Office Online allowing you to edit documents right inside the tool.
What are the difference between free Microsoft Teams and paid version through Office 365 ?
Paid version gives your user 1 TeraByte instead of 2GB.
Free version is limited to 300 users. Each user must create their account, an headach when you are a company that need to be able to :
Reset password
Disable an account (when the employee leave, to ensure he has no access to Teams Data)
It also come with Office 365 other services, useful for companies.
Also you can't can (since recently) schedule meetings inside Teams and record them. As a workaround you can send an email invitation to ask to meet at a certain time.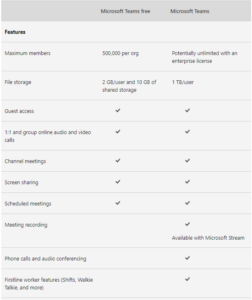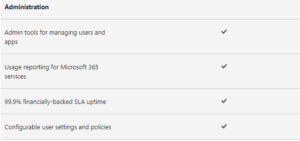 Source : Microsoft
---
Si vous êtes un particulier vous pouvez obtenir Microsoft Teams gratuitement en suivant ce tutoriel. Si vous êtes une entreprise, cela sera couvert dans le prochain article.
Cet outil est bien pour vous si vous souhaitez partager et collaborer sur le même document avec votre équipe, faire des visioconférences, chatter depuis l'ordinateur ou le téléphone, partager des notes sur un tableau blanc virtuel etc.
Comparé à Zoom ou Slack, Microsoft Teams est complément intégré avec la suite Office permettant d'éditer les documents directements dans Microsoft Teams. Si vous avez Office sur votre poste vous pouvez aussi ouvrir ces fichiers.
Quelles sont les différences entre Teams gratuit et Teams payant ?
La version payante vous donne 1 TB de données plutôt que 2GB.
La version gratuite est limitée à 300 utilisateurs.
Lorsqu'on paie pour Teams, c'est via Office 365, qui est toute une suite de services utiles pour les entreprises. Ainsi son déploiement et sa gestion par le service informatique est aussi facilité afin de :
réinitialiser le mot de passe d'un compte
désactiver le compte d'une personne quitter l'entreprise, garant de la sécurité de vos données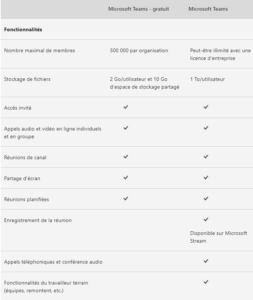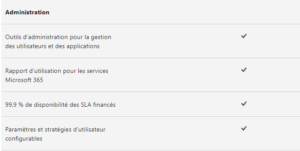 Source : Microsoft